Alberto in Horizontes
A master students' experience in Costa Rica - Albi's blog post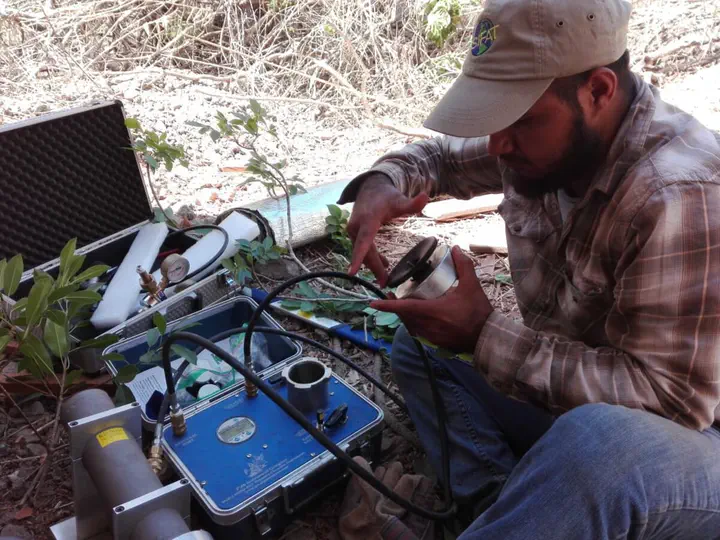 I am currently completing my master's degree in Integrated River Basin Management at CATIE in Costa Rica, thanks to the thesis topic provided by Dr. Christian Birkel, I had the great pleasure of meeting and participating with the Isodrones research team led by Dr. Matthias Beyer. This is one of the best research experiences I have experienced, starting with the unconditional support given to me, as communication was a bit difficult due to the language, however thanks to the trust and friendship from the Isodrones' researchers I felt like part of the family.
Arriving to a dry zone in Costa Rica and waking up every morning hoping to see some drops of rain during the day was like some illusion to me, as I was living in the region of Turrialba where it rains every single day. This first impression is very common when arriving to dry forests, though as days go by it becomes very clear how rich these forests are by observing and listening to unique species not found in other regions.
The first month was very physically intensive under very high temperatures and involved tasks like digging holes on the rocky ground, constructing a wooden hut, installing equipment and sensors for monitoring the experiments. After the installation stage, the data collection began which involved more technical and practical knowledge. It was a grateful experience for me to be part of this worldwide innovative project, which consists of direct measuring of water isotopes in the field.
This was a very gratifying experience, not only from the research point of view, but also entertaining and adventurous. As the Isodrones team is characterized by a unique life style, which combines working activities with joy, responsibility and professionalism, this creates an appropriate and comfortable job environment to achieve the work with dedication and commitment.
Furthermore, Isodrones was my first research experience with people from different cultures. My biggest challenge within this experience was when the time came for the group to return to Europe, and to my surprise I was left in charge of an additional period of data collection for the month of May. This type of situations make you realize that the hard work is rewarded and this is amazing. Thanks to the knowledge they gave me I was able to carry out all tasks successfully.
Thanks to all members of the Isodrones team for:
Your friendship.
Giving me knowledge for my professional life.
Sharing your knowledge with me to support my professional development.
Giving me the opportunity to participate in your project.
The trust placed in me.
Teaching me the meaning of enjoying what you do and for teaching me how to use a surfboard.
'ISODRONES IS GOOD, YES'